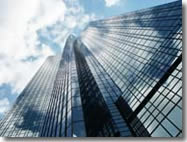 US$25 million in favor of BIF
November 16, 2007
CAF approves new line of credit for Banco Interamericano de Finanzas (BIF)
(Lima, November 16, 2007).- The Andean Development Corporation (CAF) granted a rotating line of credit for US$25 million in favor of Banco Interamericano de Finanzas (BIF).
CAF President & CEO Enrique García said that approval of this credit is part of the Corporation's strategy to facilitate financing for the bank and its customers by granting loans, avals and guarantees.
The US$25-million extension of the line of credit with BIF will be used to finance the foreign trade and working capital operations of its customers.
"Confirming our confidence and commitment to this important sector of the country, this new CAF approval joins others made to the Peruvian financial system," he added.
The BIF, which is part of the Spanish IF Banking Group, focuses on small- and medium-sized enterprises, emphasizing foreign trade and personal banking.
The Bank is developing a plan to expand its network and products, accompanied by investments in technology to strengthen its important role in the Peruvian financial system.