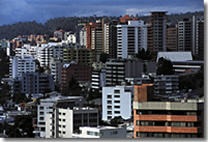 US$250 million to reduce poverty in Ecuador
November 26, 2007
CAF grants loan to support Human Development Bond Program (BDH).
BDH benefits 1.2 million households in vulnerable conditions.
(Caracas, November 26, 2007).- CAF approved financing of US$250 million for the Republic of Ecuador to support the Human Development Bond Program (BDH). The program promotes the access and permanence of the most vulnerable population in the education and health sectors. The executing agency is the ministry of Economy and Finance, in coordination with the ministry of Economic and Social Inclusion.
CAF President & CEO Enrique García said he was pleased with approval of this new loan operation for Ecuador. The Bond is an instrument of social inclusion and formation of human capital, which contributes to achieving the goals of universal access to primary education and reduction of infant mortality established in the Millennium Development Goals, he added.
The Human Development Bond, which was created in 2003, is the most important intervention area in the Ecuadorian government's Social Protection Program. The Bond protects the level of consumption of the poorest families through the mechanism of conditional monetary transfer which benefits approximately 1.2 million vulnerable households and opens access to basic education and health services for over 2.6 million children.