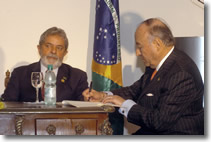 Brazil increases its equity interest in CAF
(Caracas, December 18, 2007).- CAF president & CEO Enrique García and Brazilian Ministry of Planning, Budget and Management Paul Bernard signed an agreement under which the South American country becomes a full member of the Corporation. The ceremony took place during the Mercosur summit in Montevideo In the presence of Brazilian President Luiz Inácio Lula da Silva.
The signing formalizes subscription to US$467 million of CAF ordinary capital stock which added to its existing equity interest of US$132.3 million raises the capital commitments subscribed by Brazil to US$599.3 million. It was also agreed that the country would contribute US$126 million to the guarantee capital of the Corporation.
The subscription strengthens CAF as a Latin American institution par excellence which in the last decade has become an important multilateral source of financial resources for the countries of the region in the interests of promoting sustainable development and regional integration.
In the 1996-2007 period, the Corporation approved in favor of Brazil a set of operations under various schemes for a total of approximately US$4.50 billion in various sectors such as road integration and energy infrastructure, social and urban development, stimulus for international trade, and support for micro-, small- and medium-sized enterprises.