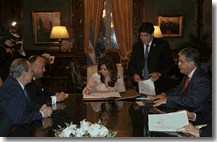 CAF and Argentina deepen relations
December 11, 2007
On her first day of government the incoming Argentine president held a meeting with CAF President Enrique García
(Special, December 11, 2007).- On her first day in government, the president of the Republic of Argentina Cristina Fernández de Kirchner held a meeting in the Casa Rosada Presidential Palace with CAF President & CEO Enrique García. Also present at the meeting were Minister of Economy and Production Martín Lousteau, Planning Minister Julio de Vido, and other high-level national authorities.
During the meeting President Cristina Fernández emphasized the growing support that CAF has offered to Argentina in strategic areas for national development and confirmed her government's interest in strengthening the country's presence in this multilateral financial institution.
Enrique García stressed the excellent level of relations between CAF and Argentina, as reflected in the recent subscription of ordinary shares which has formalized Argentina's full membership of the Corporation. He also emphasized the Corporation's willingness to continue supporting initiatives in the public and private sectors which promote the economic and social development of the country and strengthen regional integration.
During the meeting, Minister Martín Lousteau and President García signed two loan agreements totaling US$280 million to partially finance the Comahue-Cuyo Electricity Interconnection Project (US$200 million) and the Project for Rehabilitation and Paving of the El Pehuenche International Pass (US$80 million). These projects join a portfolio of approvals which has totaled over US$1.30 billion in the last five years.