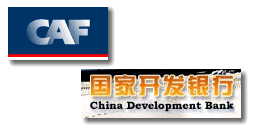 Funds from China for the region
December 07, 2007
The relation between CAF and the China Development Bank begins with a first disbursement of US$150 million.
The funds will be used to finance infrastructure and social development projects in Latin America.
(Caracas, December 7, 2007).- As a first reflection of growing relations between the Andean Development Corporation and China, the China Development Bank made the first disbursement to CAF for US$150 million. The funds from the loan will be used to finance infrastructure and social development projects in Latin America.
CAF President & CEO Enrique García said that the relation between the multilateral financial organization and the Asian country began in 2006 following determination of a series of common interests. "Additional cooperation modalities which CAF is developing with CDB include joint financing of projects, as in the case of two operations which are currently in negotiation phase in the areas of mining and cement, in which CDB has shown interest in participating," Garcia said.
He added that, with the signing and use of these credit facilities, the Corporation hopes to continue strengthening links between both entities with the aim of working jointly in the search for common objectives for development of the 17 CAF shareholder countries.
Mutual cooperation
The CDB, which plays a very important role in the economic and social development of China, has recently expanded its international business, with emphasize on Latin America. Currently, the Chinese bank has made efforts to cooperate with Latin American countries and the SMEs of the region, supporting social and infrastructure projects, which reinforces the importance of the alliance with CAF.
Relations between the two institutions began in 2006 with a view to forging links in areas of mutual cooperation and a cooperation agreement was signed in Beijing on February 13, 2007. These relations permit CAF to play an important catalytic role by using financial resources from other regions, in this case from China.