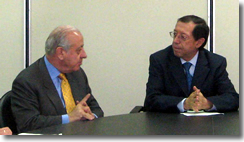 Raising Ecuadorian competitiveness
December 18, 2007
CAF and the Ministry of Industries and Competitiveness signed agreements for projects to improve the productivity and competitiveness of Ecuadorian industry.
(Quito, December 18, 2007).- Luis Paláu-Rivas, CAF representative in Ecuador, and Raúl Sagasti, Minister of Industries and Competitiveness (MIC), signed a group of agreements aimed at improving the productivity and competitiveness of various productive sectors of Ecuador.
The agreements are part of the global Loan Agreement signed with Ecuador with the objective of financing the Economic Program and Sectoral Program of Transport and Competitiveness and the Delegation Agreement of the same year, under which the Ministry of Industries and Competitiveness executes the projects in the Ecuadorian Competitiveness Program for the Ministry of Economy and Finance.
These projects are one of the activities of the CAF Competitiveness Program (PAC) which is assisting the country by providing support for productive activities with export potential and strengthening entrepreneurial capacity.
The projects to be executed by the Ministry of Industries and Competitiveness with the Corporation's support next year include:
Diagnosis, training and technical assistance for development of packaging and packing for SMEs in Pichincha province.
Generation of tagua (ivory palm) value chain to enhance the competitiveness of export products.
Strengthening the competitiveness of the chain of medicinal and aromatic plants and derivatives.
Strengthening the Empresas del Austro incubator, among others.