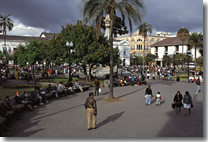 US$200 million to improve quality of life of marginal rural and urban population in Ecuador
December 05, 2007
CAF grants loan to support the Environmental Health for Community Development Program (PROMEDEC)
Priority will be given to municipalities with populations under 100,000
(Quito, December 5, 2007).- CAF approved a US$200-million loan for the Republic of Ecuador to implement the Environmental Health for Community Development Program (PROMEDEC). The objective is to improve the quality of life and health conditions of the country's poorest neglected marginal rural and urban population.
Giving priority to municipalities with populations under 100,000 inhabitants, PROMEDEC will provide a sustained increase in coverage, quality and efficiency of the basic services of potable water, sewerage and garbage collection.
The funds will be used to finance various components including institutional strengthening of the financial and administrative management of the municipalities to be executed by Banco del Estado (BEDE), and modernization and improvement of management of the water and sanitation sector by the ministry of Urban Development and Housing (MIDUVI).
CAF representative in Ecuador Luis Paláu-Rivas said that BEDE and MIDUVI had made a preliminary identification of 254 projects covering potable water, sewerage and solid waste with possibilities of benefiting from PROMEDEC. These projects cover over 131 cantons with populations under 100,000.
The total cost of the program is US$240 million, of which US$200 million is covered by the CAF loan, and the remainder by the Municipal Investment Fund and credits granted by BEDE to the municipalities.