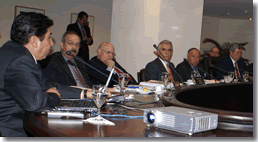 US$85 million for Brazilian road infrastructure
December 04, 2007
CAF approves loan for the Brazilian road program to support the regional development of Para state in the Brazilian north.
Objectives include raising competitiveness, strengthening agricultural development, supporting tourism and bettering the quality of life.
(Caracas, December 4, 2007).- With the objective of promoting regional development through rehabilitation and paving of the secondary roads which link the most important municipal capitals in Para state, the Andean Development Corporation approved a US$85 million long-term loan for this state, backed by a guarantee from the Republic of Brazil. The executing agency is the Secretariat of State of Transport (SETRAN).
CAF President & CEO Enrique García said, "This operation takes into account fundamental aspects that have a favorable impact on the fight against poverty in one of our shareholder countries." He added, "The program will upgrade road infrastructure and communications between the population centers of Para state, especially during the rainy season, which will help strengthen one of the country's most depressed areas." In this respect, the works support the sustainable socioeconomic development of agriculture, tourism and mining; improvement and access to health, education and services; and provide feeder roads to the integration corridors.
The program has a total cost of US$176.4 million, of which the CAF loan represents 48% while the remaining 52% will be financed from local contributions.
Specifically the work consists of rehabilitating and paving 407.5 kilometers of roads in 11 sections, corresponding to the agricultural, tourism and mining development regions and hubs of Para state. The highways selected are part of a program for paving trunk roads which will integrate the state's most important municipalities. The loan will be used to finance studies and designs, direct costs of construction and supervision, environmental and social expenditure, and external audit, among other aspects.