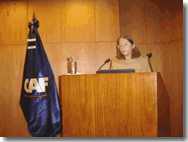 CAF presents its Environment Strategy in Bolivia
January 30, 2008
The environment director of the multilateral organization, Maria Teresa Szauer, met with representatives of public and private sectors, civil society and environmental organizations.
(La Paz, January 30, 2008).- The Andean Development Corporation presented its environmental strategy to representatives of public bodies, private enterprise and civil society, as well as environmental and international cooperation organizations. The presentation was given by CAF environment director
Maria Teresa Szauer
who recently visited the country to publicize this important document.
"As part of the stimulus for the Agenda for Integrated Development of the region which CAF is promoting based on the concept that sustainability of the natural base of its shareholder countries is of transcendental importance for achieving quality, sustained, equitable and inclusive growth, the institution has incorporated programs and operations to finance the environmental dimension into its institutional mission and policies," Szauer said.
The CAF environment strategy defines the environmental principles that guide its activities and establishes lines of action and strategic programs, in permanent pursuit of responsible institutional action and effective support for strengthening the environmental sector of its member countries.
CAF makes an important commitment to the environment by generating specific strategies and establishing programs and initiatives by means of innovative financing schemes, which increase the benefits of investment in this area for the population in general.
The Corporation also supports conservation and sustainable use of biodiversity and, in general, sustainable management and preservation of the environmental services provided by ecosystems, improvements related to climate change and air quality, reduction of industrial and urban pollution, prevention and mitigation of disaster risks, and improvements and dissemination of territorial and environmental information - key elements for decision-making. Support is also given to the processes of decentralization and strengthening of civil society and public and private institutions.