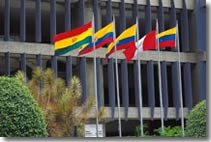 Equity Investment approved in Transportadora de Gas del Interior
January 22, 2008
With this operation the Corporation continues its support for the competitiveness of the Colombian energy sector.
(Bogota, January 22, 2008).- The Andean Development Corporation approved an operation to subscribe to US$40 million of the common stock of Transportadora de Gas del Interior SA. ESP (TGI).
With this injection of funds by CAF, the utility will strengthen its financial structure with a view to facilitating execution of its growth plan. The Corporation's equity investment will contribute to the internationalization of TGI by facilitating its future entry into capital markets and generating confidence among potential investors.
Considering that TGI provides a public service of great importance for the economic development of Colombia, this operation is in line with CAF's primary objective which is to contribute to the continuous improvement of the quality of life of Latin Americans.
TGI is one of the most important gas transport systems in the country. Its equity is owned 90% by Empresa de Energía de Bogotá and 2% by the Solidarity Sector. TGI operates some 3,600 kilometers of gas pipelines which connect Colombia's main natural gas production fields (Guajira and Piedemonte Llanero) with the main consumption centers.