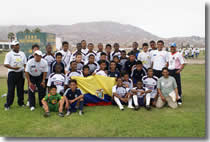 Juventud de Esmeraldas wins third place in CAF Friendship Cup
January 20, 2008
The SUB 16 Ecuadorian team won the bronze medal in its category in one of the most important football tournaments in Latin America.
(Quito, January 20, 2008).- With the support of the Andean Development Corporation and the
Football and Winning Mentality Corporation
(FMG), the SUB 16 team of Juventus de Esmeraldas represented Ecuador in the XXV event of the CAF Friendship Cup held from January 21 to 27 in Callao, Peru.
The Ecuadorian team played an excellent game in the football championship taking third place in the 1992 Year category and winning the bronze medal.
CAF supports various social responsibility programs in the region, including the Sports Training Program whose objective is to improve the integrated training of children and young people from low-income sectors in Ecuador through promotion of football. Sport creates viable conditions for civic culture and contributes to an integrated humanist education which develops the values of solidarity and discipline, responsibility and respect; ethical-sports criteria that are transferable to the social level.
The program benefits over 700 children and young people from low-income sectors who attend five football schools in Esmeraldas (Iván Hurtado Foundation, Amiga Foundation, San Lorenzo Foundation), Quito (Divino Preso Foundation), and Guayaquil (Huancavilca Foundation), all of which are organizations allied with Football and Winning Mentality.
About the CAF Friendship Cup
The CAF Friendship Cup is one of the most important football tournaments for children and young people in Latin America. A total of 300 children's and juvenile football teams from South America, Central America, North America and Europe participated in the XXV CAF Friendship Cup. In its 24 consecutive events, teams of young people aged nine to 16 have participated from all over the world.