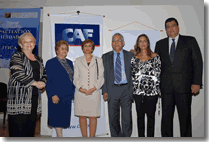 New graduates in Governance and Political Management
January 25, 2008
The closing session of the Governance and Public Management Program was held in the city of Guayaquil.
99 people trained with CAF support.
(Guayaquil, January 25, 2008).- The Andean Development Corporation, the Santiago Catholic University of Guayaquil (UCSG), and the Graduate School of The George Washington University (GSPM-GWU) today held the closing session of theGovernance and Political Management Program-2007, with the satisfaction of having trained public authorities and support teams as a contribution to transformation processes with low levels of conflict.
Present at the event were CAF director of governance and technical cooperation Elvira Lupo; coordinator of the Graduate School of Political Management Program of George Washington University Luis Raúl Matos; and UCSG vice rector Mario Toscanini.
To CAF support governance processes in member countries, CAF is offering, with GSPM-GWU, Governance and Political Management Programs in Bolivia, Venezuela, Peru, Ecuador, Colombia and Mexico with the objective of strengthening the capacity of institutions to manage complex problems when structural changes are executed.
The Program has trained mayors and councilors, vigilance committee presidents, departmental councilors, municipal technical teams, politicians and leaders of organizations which work with local government on specific issues of relevance to municipalities, as support for government action.
Elvira Lupo said that theGovernance and Political Management Programhad trained a total of 5,140 graduates since it began in Bolivia in 2001. Following its success in Bolivia, CAF decided to expand the program to the other shareholder countries to achieve participation of all actors in civil society together with municipal leaders and their support teams because a critical mass of actors with a sense of strategic game and capacity to resolve conflicts and build consensus strengthens institutional development and improves degrees of governance in the countries and their communities.
The CAF director added that the objective was to use training to guide future social and political leaders, inculcating the importance of recognizing and strengthening an integrated view of political, economic and social management, strategic communication and effective leadership.