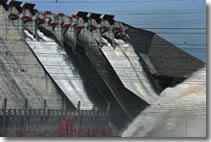 US$600 million for hydroelectric plant in Venezuela
January 17, 2008
CAF signs loan agreement for the Manuel Piar (Tocoma) Hydroelectric Plant
This is the second loan granted to this project
(Caracas, January 17, 2008).- To increase the efficiency and reliability of the Venezuelan National Electricity System, the Andean Development Corporation signed a loan contract with the Bolivarian Republic of Venezuela. The operation which totals US$600 million will partially finance the Manuel Piar (Tocoma) Hydroelectric Plant Project, which is executed by CVG Electrificación de Caroní C.A. (CVG Edelca).
The loan is an example of the Corporation's support for development of the Bolivarian Republic of Venezuela since the project will improve the electricity supply in this member country and promote development of regional energy infrastructure. This modern logistical platform, indispensable for building sustained and quality economic growth, will have a positive impact on the expansion of Venezuelan productive sectors.
This loan is the second granted by CAF for this project after the US$300 million facilitated in 2004. The objective is to increase electricity generation by 15% to meet demand and improve the efficiency and reliability of the national system. The new power plant is part of the strategic plan to exploit hydroelectricity from the Caroní River, located in the south of Venezuela. The new plant will supplement the generating capacity of the Guri, Macagua and Caruachi plants which are in operation and supply 75% of the energy consumed in the country.
The total cost of the Manuel Piar (Tocoma) Hydroelectric Plant is US$3.06 billion, of which the Corporation is financing 30%, while 70% is being financed from own and other multilateral resources.
The Manuel Piar (Tocoma) Hydroelectric Plant is the last power generating project planned for the Lower Caroní. The project, which will have a nominal capacity of 2,160 MW, is expected to generate an average of 12,100 GWh/year, 14% of the total generated by the Lower Caroní hydroelectric development. Construction of the plant, which has already commenced, will end in 2014. With operation of the plant, nominal power generated by the entire complex will rise to 16,130 MW, one of the largest world's largest hydroelectric generating systems.
Since 1992, CAF has approved 10 loans for projects executed by the Edelca state utility to increase power production and transmission for a total of US$1.82 billion. In Brazil, the Corporation has financed construction of the power line which supplies Venezuelan electricity to the border area of the neighboring country.