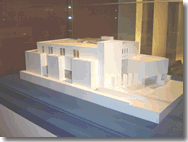 Architecture show in cultural space
February 01, 2008
The second exhibition of the year in the CAF artspace is the architectural show of the celebrated Juan Carlos Calderón
The exhibition presents the phases of creation of the design of the new representation building in Bolivia
(La Paz, February 1, 2008).- The architectural show of the well-known Bolivian architect Juan Carlos Calderón opened in artspace on January 30. Calderón is a winner of the National Culture Prize, a distinguished university professor and architect of important buildings in Bolivia, especially the Representation of the Andean Development Corporation in Bolivia.
The opening ceremony was attended by plastic artists, professionals in architectural design, students and friends of the exhibitor. CAF representative in Bolivia José Carrera said he admired the work of Calderón which was reflected in the new building of the multilateral organization. He confirmed the institution's commitment to developing and promoting all forms of cultural expression in member countries.
The architect explained to participants the concept of the magnificent work and the elements incorporated into its design. "It is not just another corporate building, the work has the essence of the Andean character. The facade and volumes remind us of the telluric masses of our pre-Columbian ruins, and the total transparency of the building makes it possible to admire the geography of the city and the imposing Illimani."
This exhibition shows the design process from the time the Calderón project won the competition organized from the Corporation's headquarters in Caracas.