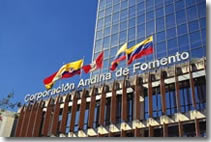 US$150,000 donation to Ecuador for national emergency
February 21, 2008
The multilateral organization will support the actions of the Ecuadorian national government in assisting thousands of victims.
In view of the serious flooding, the government declared a national emergency.
(Quito, February 21, 2008).- CAF President & CEO Enrique García approved - in an immediate response to the emergency that is affecting Ecuador - a US$150,000 donation to offer prompt assistance to the country and victims in the national emergency (declared by Supreme Decree 916) caused by the serious flooding.
García expressed his most sincere solidarity with the Ecuadorian people in the heavy rains that have ravaged the country causing thousands of victims and enormous material losses. "The Corporation has decided to contribute funds to support the government in its task of humanitarian assistance and in response to the emergency of recent weeks."
In this difficult situation, CAF sends these funds in response to the needs of the population affected by the intensity of the rainy season.