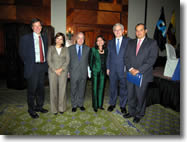 CAF presents Report on Economy and Development RED 2007-2008
March 13, 2008
National and international experts analyze outlook for generating opportunities in Latin America through an improved social policy.
(Quito, March 13, 2008).- The Andean Development Corporation presented on March 13 its Reports on Economy and Development (RED) 2007-2008 titled
Opportunities in Latin America: toward a better social policy
. This publication is aimed at generating reflections on the public policy options for the countries of the region with a view to improving opportunities for the social mobility of the population.
On this occasion, RED 2007-2008 proposes the need to increase the efficiency of social policy in achieving its objectives. The report emphasizes the importance of taking into account the incentives of all participants involved in social policy (beneficiaries, providers, administrators, etc), as well as the need to maintain an integrated view of public policy based on the inter-relation between its different areas, and their relation with other areas of state intervention.
In the study CAF offers diagnoses of the social situation of the region in a series of areas, along with recommendations generated from recent evaluations of the successes and failures of public policy in Latin America and other parts of the world. Consequently, without intending to offer recipes applicable to all other countries in any circumstances, the Report lays out some general guidelines for increasing the efficiency of social intervention in various sectors: education, health and labor markets, among others. It also analyses the interaction between financing mechanisms for social policy and its objectives, emphasizing an integrated view of public intervention.
The event was opened by CAF representative in Ecuador Luis Paláu-Rivas with the presence of economist Natalie Cely, minister coordinator of Social Development; economist Jeannette Sánchez, minister of Economic and Social Inclusion. The report was presented by Miguel Castilla, CAF chief economist and head of Public Policies and Competitiveness.
Other participants were international experts José Antonio Ocampo, professor of the University of Columbia, former UN Under Secretary General who was recently awarded the Leontief Prize for Advancing the Frontiers of Economic Thought; and Daniel Titelman, coordinator of the ECLAC Special Studies Unit.