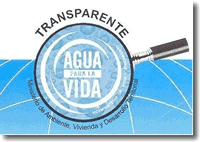 Continued support for transparent use of water and sanitation funds in Colombia
March 12, 2008
As part of the celebration of World Water Day, the vice minister of Water and Sanitation of the Ministry of Environment, Housing and Territorial Development organized the Transparent Water Forum.
Bogota, March 12, 2008.- The Transparent Water Forum was held in Bogota with CAF support on March 11 and 12. The main purpose of the event was to promote the transparent use of funds destined for potable water and basic sanitation.
CAF currently supports the potable water and sanitation sector in Colombia through financing of departmental plans in Cesar and Magdalena.
During the forum, the Transparent Water Program was presented to national, departmental and regional authorities, companies in the sector and control agencies. The objective of the program is to design and implement mechanisms that foster transparency in the contracting of the sector.
The Forum also examined the new directive from the Procurator General of the Nation on the water and sanitation area, the changes in the General System of Participations which affect the area, and monitoring and control of system resources, among other issues.
During his presentation, the Minister of Environment, Housing and Territorial Development, Juan Lozano, said he appreciated the commitment of all the institutions and control agencies to preventing the continuing diversion of resources and called on the community to oversee the sector.