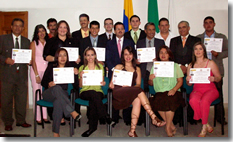 New graduation of Governance and Political Management in Ocaña, Norte de Santander
(Bogotá, March 3, 2008).- The Andean Development Corporation (CAF), the Francisco de Paula Santander University, Ocaña section and the Graduate School of The George Washington University closed theGovernance and Political Management Program.
The closing act of the fifth graduation of this Program was held in the Fabio Amaya auditorium of the Francisco de Paula Santander University of Ocaña.
The 20 participants of this Program included councilors, public officials and leaders of political and social organizations, who reinforced their capacity to resolve conflicts and generate consensus.
As part of its support for governance processes in member countries, CAF, together with The George Washington University, is organizing Governance and Political Management Programs in Peru, Bolivia, Colombia, Ecuador, Venezuela and Mexico, strengthen the capacity of the institutions to manage complex problems during execution of structural changes.