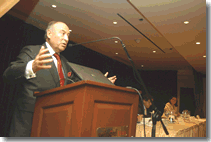 CAF and Latinobarómetro present poll on ´Opportunities for regional integration´
(Lima, April 16, 2008).- The Andean Development Corporation, in alliance with Corporación Latinobarómetro, selected Peru to present the "Opportunities for Regional Integration" poll taken in 18 Latin American countries. The latest poll covers important topics on international relations, regional integration, energy and natural resources, among others.
The event took place in the presence of CAF President & CEO Enrique García; Peruvian Prime Minister Jorge del Castillo; founding director of Corporation Latinobarómetro, Marta Lagos, with the participation of analyst Luis Alberto Adrianzén.
This presentation is part of the "strategic alliance" formed two years ago by CAF and Latinobarómetro to stimulate analysis of the region, introducing a deeper study of economic issues, such as understanding the concept of market economy, participation in the global economy, natural resources management, among others.
The questions in the poll, taken in 2007, focused on Latin American attitudes to energy, integration and their view of the future.
On energy, among respondents in the region, there was a strong consensus of concern about possible power cuts but no consensus on the solutions.
In this respect, 80% of Latin American citizens said they were very concerned about the power cuts which their country could suffer.
On solutions to the energy problem, 47% said they should be solved by "all countries together," 28% by each country individually, while only 13% said that the solution was with the world's richest countries.
On integration, the poll revealed that one out of two Latin Americans supports integration measures, with a clear profile of countries which are more open to moving forward while others are not.
On the type of integration measures, only a small minority is in favor of receiving foreign immigrants; while half of Latin Americans approve setting up a parliament, opening borders to investment, and efforts to reach agreements on energy.
The Latinobarómetro poll is an instrument for monitoring regional opinion with a view to generating a debate open to the public as a form of permanent analysis of poll results, and strengthening dissemination of the project and access to the data via website, in an effort to encourage its use by the region's political and social actors.
The poll aims to be an instrument to support public policy decisions in Latin America and develop public opinion research.
Latinobarómetro has 10 years' experience polling public opinion in Latin America on democracy, public policies, economic models, trends in international trade, geopolitical aspects, among others.
The CAF contribution to the Latinobarómetro project is to finance part of the fieldwork in 18 countries in the region, almost all its shareholders, which allows the Corporation to participate in the discussion and inclusion of questions on the topics evaluated in the study.