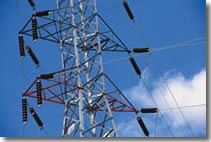 Finance for electricity projects in Costa Rica
April 09, 2008
The presidents of CAF and ICE sign a US$100 million agreement to strengthen the Costa Rican electricity sector.
(Caracas, April 9, 2008).- To formalize financial support for development and execution of the electricity investment plans of the Costa Rican Electricity Institute (ICE), CAF President & CEO Enrique García and ICE President & CEO Pedro Pablo Quirós Cortés today signed a loan agreement for US$100 million.
García said, "the ICE is a strategic state-owned company in Costa Rica, one of the CAF partner countries. Its basic responsibility is to contribute to the economic, social and environmental development of the country, by expanding access of the population to electricity service and advanced technology in telecommunications at national level, and the rational use of natural resources." He added, "through its financing, CAF supports, the non-sovereign public sector as fundamental actor for sustainable development in this Central American nation."
With this financing, CAF is facilitating ICE's goal of making fundamental investments to improve its services in the energy sectors, with a view to meeting growing demand from users in an efficient and competitive way. "Demand for electricity services in this Central American country continues to increase rapidly now at 5% annually, exceeding expectations," Garcia said.
Costa Rica joined CAF as a shareholder in March 2002 as part of the Corporation's strategies and policies to strengthen and expand its cooperation with the country. He highlighted some areas of work which are part of the CAF action program in Costa Rica. These include financing sustainable physical infrastructure due to its strategic impact on development; access to non-reimbursable technical cooperation funds for sustainable development, competitiveness, institutional strengthening, governance, culture and other priority areas for development; strengthening Costa Rica's relations with other CAF shareholder countries, including matters of mutual interest.
ICE is an autonomous state-owned electricity utility as well as the country's sole telecommunications provider. After 58 years of operations, it has an outstanding record for providing an excellent and reliable service, maintaining a stable profit flow, sustained by application of strategies aimed at improving operational excellence, financial soundness and an effective organizational operation, combined with pioneering contributions to the application of advanced technologies to raise the standard of living of the population.