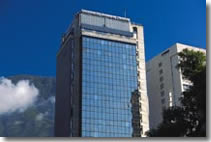 Invitation to submit credentials for new CAF headquarters
April 16, 2008
The international financial organization is inviting architectural firms from its 17 shareholder countries to submit credentials.
The new CAF headquarters will be designed with public spaces for the community of Caracas and will offer an architectural addition to city.
(Caracas, April 16, 2008).- The Andean Development Corporation is inviting architectural firms to submit credentials for the
International Competition for the new CAF Headquarters
in Caracas, Venezuela. Credentials can be received from architectural firms in the 17 shareholder countries: Argentina, Bolivia, Brazil, Chile, Colombia, Costa Rica, Dominican Republic, Ecuador, Jamaica, Mexico, Panama, Paraguay, Peru, Spain, Trinidad & Tobago, Uruguay and Venezuela.
CAF President & CEO Enrique García said that "the need for a new headquarters is due to the substantial expansion of operations which the institution has been executing in favor of Latin American development, so that we can continue increasing support for our shareholder country."
The characteristics of the new building will include integration into the lives of the citizens of Caracas, facilitating life in the surrounding communities by providing public spaces, with the intention of offering an architectural addition to Caracas.
Evaluation of credentials will be based on the following selection criteria:
Professional qualification awarded by the legal and/or academic entity of their country or certificates of membership in the corresponding official professional association.
Written works recognized for their merit in relation to contribution to the urban environment, innovation and aesthetics in reviews/magazines, books and digital media at national and international level.
Prizes or recognition for participating in architectural competitions or biennials at national and international level.
Minimum 10 years experience in construction, and extensive experience in project management in design, development and execution phases. Constructions must maintain a high standard of quality and the intention to contribute to architecture as discipline.
Links with the academic world reflecting great interest in strengthening and developing the discipline of architecture.
The web page
www.caf.com
contains all the information required for submission of credentials by the architectural firms. Firms can register in electronic or printed form.