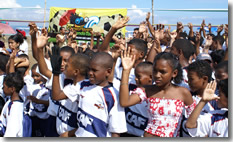 Looking for Talent football tournament ends in Esmeraldas
April 25, 2008
With support from CAF, the 7th Looking for Talent tournament was held in Esmeraldas
1,000 children aged 10 to 15 took part in the event.
(Quito, April 25, 2008).- In Esmeraldas, in Playa de Palmas, the 7th
Looking for Talent
Tournament was held with participation of about 60 youth teams aged 10 to 15. This activity, which takes place during vacations, was organized by the Football Winning Mentality (FMG) and the Amiga Foundation with support from the Andean Development Corporation.
The event is part of the Developing Potential Human Talent of Ecuadorian teenagers and children project, whose objective is to strengthen integrated training of children and young people from low-income sectors by promoting football. The sport makes civic culture viable and contributes to an integrated humanist education which develops values of solidarity and discipline, responsibility and respect, ethical-sports criteria which are transferable to the social level.
CAF supports various social responsibility programs in the region, including the Sports Training Program which benefits over 700 children and young people from low-income sectors who attend five football schools in Esmeraldas (Fundación Iván Hurtado, Fundación Amiga, Fundación San Lorenzo), Quito (Fundación Divino Preso), and Guayaquil (Fundación Huancavilca). All these organizations are allies of Football and Winning Mentality, an institution that develops international cooperation programs with the objective of strengthening school management and training and growing young talent.