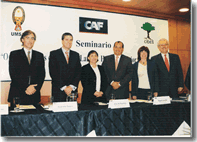 Reflections on opportunities in Latin America for achieving a better social policy
April 14, 2008
Report on Economy and Development RED 2007-2008 presented in Bolivia
(La Paz, April 14, 2008).- The Andean Development Corporation presented on April 14 the fourth edition of the Annual Report on Economy and Development RED 2007-2008, entitled
Opportunities in Latin America: toward a better social policy
. This publication contributes to the debate on how to expand opportunities for social inclusion and economic progress for the majority of the inhabitants of the region.
Opening the event, CAF representative in Bolivia José Carrera said that the objective of the book - prepared by professionals from the CAF Office of Public Policy and Competitiveness with advice from distinguished academics and personalities from the region - was to generate reflections on the path that the countries of this part of the continent should follow to improve opportunities for the social mobility of the population.
Presenting the publication, CAF Chief Economist Miguel Castilla said that RED 2007-2008 stressed the need to optimize the efficiency of social policy in achieving its objectives, which urgently required an integrated approach. Social policy should not be seen in isolation from the rest of the economy but rather as a core element in constant interrelation.
Other participants were Graciela Toro, Minister of Development Planning; Ivonne Farah, director of CIDES-UMSA; and international experts such as Professor José Antonio Ocampo of Columbia University, and Fabio Bertranou of the International Labor Organization (ILO).
The event was closed by Minister Toro who said that RED presented "an adequate balance of theory, case studies and policies attempted in the social area in various Latin American countries." He congratulated the Corporation on its valuable contribution to thinking and discussion on such a key issue as social policy.
The report emphasizes the need to increase the efficiency of social policy in achieving its objectives with a view to improving opportunities for the social mobility of the population. Although, because of their particular circumstances, each country has different priorities in relation to the role of public intervention, the book argues that there is a clear area for improvement in all countries of the region for achieving a more efficient social policy.
The event was attended by authorities, representatives of public and private sectors, and national and international specialists with different approaches on how to achieve an integrated development agenda which must be a task shared by all agents of society: government, business, labor, civil society and the international community.
With this publication, CAF presents the fourth edition of its series as a contribution to the debate on policies for following a path of sustained growth with social equity in Latin America.