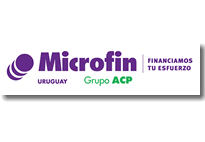 Stimulus for Uruguayan microfinance sector
April 30, 2008
CAF approves US$200,000 equity investment in Microfin.
Microfin offers services to microenterprise owners in Uruguay.
Microfin is owned by the internationally recognized holding Peruvian ACP Group.
(Caracas, April 30, 2008).- The Andean Development Corporation approved an equity investment of US$200,000 in Microfin, institution which will offer services to microenterprise owners in Uruguay, a CAF member country. This investment expands CAF support for the economic and social development of Uruguay, in this case by stimulating the microenterprise sector. This operation joins the financial backing which the country has already received from CAF to strengthen its road, energy and potable water infrastructure.
"The setting up of an institution like Microfin is an important contribution to developing the microfinance system and competition among a larger number of institutions, as well as expanding coverage of this type of service in Uruguay," said Enrique Garcia on announcing the CAF equity investment. The operation also "actively supports growth of the microenterprise sector which plays an important role in the Uruguayan economy," he added.
Microfin's main product will be credit for micro and small urban enterprises for investment in working capital and fixed assets in the commerce, production and service sectors. Microfin also plans to enter the rural and agricultural area offering financial services for micro and small agricultural enterprises in the medium term.
The ACP group has 40 years' international experience as a private non-profit holding dedicated to combating poverty through a set of complementary companies in various Latin American countries.