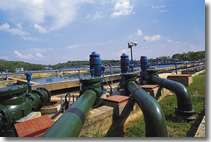 US$17.5 million for sanitation works in Uruguay
April 17, 2008
CAF signed a US$17.5-million loan agreement with the State Sanitation Works Administration (OSE) to finance the Sixth Pumping Line Project of the Montevideo Metropolitan Drinking Water System.
The project will benefit the approximately 350,000 people.
(Caracas, April 17, 2007).- To contribute to the financing and execution of the Sixth Pumping Line Project of the Montevideo Metropolitan Potable Water System, the Andean Development Corporation and the State Sanitation Works Administration (OSE) signed a loan agreement for US$17.5 million with guarantee from the Uruguayan State, which will benefit important sectors of the capital of the country.
"The objective of the project - Enrique García explained - is to improve the quality of life of about 350,000 low-income residents of the west of Montevideo by increasing the capacity and reliability of the potable water supply system." García added that "financing this social investment product marks the start of CAF support for other projects in this sector in Ecuador and is consistent with the Corporation's social development agenda, fundamental in its community and territorial context."
The project is part of the National Potable Water and Sewerage Program, approved by OSE, which defines investment priorities for meeting demand in the metropolitan area until 2035, and optimal utilization of resources and the environment. The total cost of the project is US$39 million, of which 45% comes from the CAF loan, 48% from local contributions and the remaining 7% from Citigroup.
The project involves construction and installation of a 50.9-km supply line from the Aguas Corrientes treatment plant to the west of the capital city, execution of supplementary works, and supply and installation of equipment and accessories for interconnection with other pumping lines in the metropolitan water system.
OSE is a decentralized autonomous public body, set up in 1952, with responsibility for supplying potable water and sanitation services across the country, with the exception of Montevideo department.