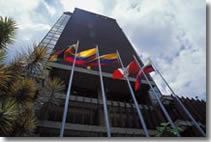 International meeting for Competitiveness and improvement of the business climate
May 16, 2008
Through its Competitiveness Support Program, CAF is organizing the event to be held on May 27.
(Quito, May 16, 2008).- Quito will host the
IV International Meeting of the Competitiveness Support Program
, event organized by the Andean Development Corporation. The keynote theme will be improving the business climate and its importance for productive development. The objective is to facilitate exchange of ideas and experiences among the national and international participants from public, private and academic organizations.
The international meeting, to be held May 27, will present international speakers with broad experience in the area, business leaders, representatives of trade associations and the public sector, academics and opinion makers. The conclusions will contribute to defining future lines of work aimed at improving competitiveness in the region by improving the business environment.
The key topics to be discussed during the event include:
Importance of the business environment for competitiveness, and opportunities for value creation in the world economy.
Role of trade associations, business and social organizations in improving the business environment.
Role of the public sector and institutional alliances to improve the environment for production.
Programs to reduce administrative barriers, among others.
This event is part of the actions of the Competitiveness Support Program (PAC) through which CAF offers technical and financial assistance to the joint work of governments, business and members of the academic sector in an effort to stimulate competitive advantages in the region.
In 2004, in Venezuela, the I CAF Meeting for Competitiveness was held to demonstrate the experiences of pre-incubators and incubators of companies and business networks and conglomerates. In 2006 the II CAF Meeting Emprende on business development took place in Colombia as a space for exchange of ideas on business development. In 2007, the CAF Meeting - Networks for Competitiveness was held in Peru to share ideas and experiences on clusters and their importance for business development.
For more information on this meeting consult the webpage http://pac.caf.com