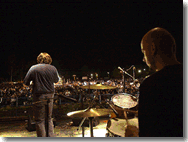 José Carbajal, "El Sabalero" in the CAF Auditorium
May 19, 2008
CAF invites the public to a concert of Uruguayan folk music this Tuesday May 20 at 7:00 pm in the CAF auditorium.
The Uruguayan singer is known for his pieces "Chiquillada," "Angelitos Negros" and "A mi gente"
(Caracas, May 19, 2008).- The Andean Development Corporation invites the public to the concert of José Carvajal "El Sabalero" who, accompanied by six musicians, will perform Uruguayan popular music, the genre which he popularized. The event will be held this Tuesday May 20 at 7 pm in the Antonio José de Sucre Auditorium, in Torre CAF, Avenida Luis Roche de Altamira.
The popular Uruguayan musician, José Sabalero, is known for songs such as Chiquillada, La Sencillita, and A mi Gente with which he achieved fame in Latin America in the 1970s. His disc La Casa Encantada was included as study material in Uruguayan primary schools. Since 1992 he has lived in Holland, although he maintains his musical group in Montevideo.
The concert is part of the cultural activities promoted by CAF in the framework of the Social Responsibility Program of its External Relations Office, which promotes and disseminates the works of composers from the region.