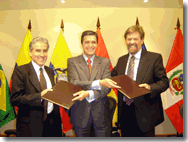 More finance for gas connections, equipment and training in schools in El Alto and Potosí
May 15, 2008
CAF and CEDES sign technical cooperation agreement to continue financing the "Sowing gas in Bolivia" project and extend support to schools in the city of Potosí
(La Paz, May 15, 2006).- The Andean Development Corporation approved a non-reimbursable technical cooperation operation to finance the fourth and fifth stages of the
Sowing Gas in Bolivia
project, through an agreement signed with the Business Council for Sustainable Development (CEDES). The Corporation began backing this project in 2006; so far over 200,000 Bolivian boys, girls and teenagers have benefited.
The agreement was signed by Juan Carlos Requena and Edward Eugene, president and vice president of CEDES, respectively, and CAF representative in Bolivia José Carrera who said the multilateral organization's decision to continue financing this project had had a high impact for the benefit of the children of El Alto and was now expanding to the city of Potosí.
The agreement mobilizes funds for financing the coordination of stages IV in Potosí and V in El Alto, provision of materials of internal installation and equipment, execution of civil works, and training expenses for teachers, parents and pupils in 27 schools in Potosí and 50 in El Alto. Natural gas will be installed along with cookers, ovens, heaters and showers in 20 public health centers in El Alto.
Sowing Gas is a result of the strategic alliance between private enterprise, international cooperation and the state sector in an effort to improve the quality of life of Bolivian families, by supporting education communities with measuring instruments (regulators and meters), provision of equipment (cookers, ovens, heaters, and showers) and free installation of natural gas as a fuel for food preparation - particularly school breakfast, heating for classrooms and access to hot water in the school showers.
Execution of the project was shared with German Technical Cooperation GTZ, Transredes, Sinchi Wayra, the Potosí municipal government and the state YPFB which supervised the internal gas installation by microenterprises, after the interconnection with the secondary network. Parents helped with the work.
At the same time, training workshops were held for students, teachers and parents on the use and benefits of natural gas, health and environment.
In addition to the socio-cultural impact, the project generates income for microenterprises and sources of employment for producers of ovens and cookers, which stimulates the local economy.