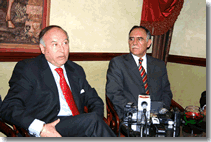 US$110 million for construction of Gualo-New Airport road
May 28, 2008
CAF President says the loan will benefit Quito by improving the city's competitiveness.
(Quito, May 28, 2008).- CAF President & CEO Enrique Garcia and Quito Mayor Paco Moncayo gave a press conference to report on the US$110 million loan for construction of the Gualo-New Airport road.
García said CAF had an important and continuing interest in supporting the city of Quito in its transformation and in improving the quality of life of its inhabitants. He said that a technical commission was analyzing the road project. "The new airport will improve the city's competitiveness and attract more tourists and business, which is why this contribution to its connectivity is needed," he said.
For Mayor Moncayo the Gualo-New Airport road will improve the quality of life of the Valley of Tumbaco by decongesting the area and facilitating Quito's connection with the new airport. The Gualo-New Airport road is due for completion in 2010, he added.
About the Gualo-New Airport road project
The project requires construction of a new road from Simon Bolivar Avenue, over Gualo bridge, continuing south of Llanura de Cocotog, passing over the river Guayllabamba and continuing along the Planicie de Puembo to connect with the Alpachaca Connector. The road has 13.4 kilometers of asphalted pavement and requires the building of two bridges of 496 meters over the rivers Guayllabamba and Guambi.