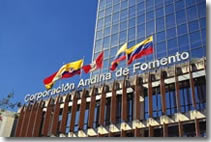 US$150 million joint loan with China Development Bank for Cemento Argos
May 27, 2008
The funds from this operation will be used to partially finance construction of a new cement production line in the company plant in Cartagena.
(Bogota, May 27, 2008).- The Andean Development Corporation, China Development Bank (CDB), and the company Cementos Argos S.A. signed a short-term loan agreement for US$150 million to partially finance construction of a new cement production line in the company plant in the city of Cartagena, Colombia.
CAF will contribute US$75 million and CDB the remaining US$75 million. "This operation is part of the strategic agreement between CAF and CDB to finance development projects in Latin America as an effective contribution to the Colombian private sector," CAF President & CEO Enrique Garcia said.
With construction of this new cement production line in Cartagena, Argos will increase its production by 1.8 million tons and take its annual production to 13.4 million tons, to meet demand from the market in the United States and the Caribbean. With state-of-the-art technology, the new line will significantly reduce the company's operating costs, opening the way for its products to compete on export markets.
With the signing of the loan agreement, CDB is promoting strategies for developing international business, supporting the economic and social development of Latin America, and cooperating with international financial institutions.
With its participation in this operation, CAF continues developing initiatives which stimulate the growth of private enterprise in the economies of its shareholder countries and which create more jobs and produce more goods and services for the population.
CDB is a financial institution of the Chinese State, founded in 1994. Its function is development of the national economy, participating actively in the long-term financing of key infrastructure projects in Chinese industry, pillars of the economic growth of that country.
Cemento Argos SA is a leading company in the Colombian cement industry with 51% market share, the fifth largest cement producer in Latin America with investments in Panama, Haiti and the Dominican Republic, and the sixth manufacturer of concrete in the United States. The company exports to 27 countries.