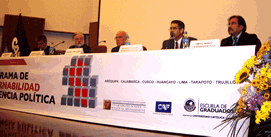 VI Governance and Political Management Program opens in Peru
May 31, 2008
350 actors from civil society will receive trainng in an alliance with PUCP and George Washington University.
The decentralized training will take place in the cities of Arequipa, Cajamarca, Cusco, Huancayo, Trujillo and Lima.
(Lima, May 31, 2008).- To strengthen the capacity of government officials and actors in civil society to manage complex problems when structural changes take place in their communities or countries, the VI Governance and Political Management Program opened today. The program is the fruit of an agreement between the Andean Development Corporation, George Washington University (GWU), and the Master's in Political Science of the Peruvian Catholic Pontifical University (PUCP).
The ceremony was presided by CAF deputy representative in Peru Ricardo Campins; the Dean of the PUCP Graduate School, Marcial Blondet; coordinator of the Master's in Political Science Aldo Panfichi; and Rolando Ames, program teacher.
During the inaugural session, Campins said the objective of the Program was to offer an integrated view of the problems of economic and social development, and the capacity to implement that view in a coordinated framework of action which includes technical elements, and political, economic and social viability.
CAF has been executing the program since 2001 in alliance with George Washington University and local universities in Argentina, Bolivia, Colombia, Ecuador, Mexico, Peru and Venezuela, creating a critical mass of public officials in the region. Some 5,142 students have graduated so far from the training program which lasts from six months to one year.
The CAF representative added that the VI Governance and Political Management Program in Peru will benefit 350 participants. The creation of a critical mass of actors with capacity to resolve conflicts and generate consensus is consolidating institutional development, and improving the level of governance of the countries.
"The Governance Program, which began successfully in the Andean countries along with Argentina and Mexico, is a CAF initiative which seeks to guide future social and political actors through training, which inculcates the importance of recognizing and strengthening an integrated view of political, economic and social management combined with strategic communication and effective leadership," he added.