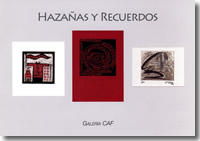 CAF Gallery celebrates Garibaldi
June 13, 2008
Known by many as the Hero of Two Worlds, the exploits of Guiseppe Garibaldi have been captured in the works of various Latin American artists.
An exhibition opens next Monday which brings together the work of artists from Argentina, Bolivia, Brazil, Colombia, Chile, Mexico and Uruguay.
The show opened in 2007 in Italy in homage to Garibaldi on the bicentenary of his birth.
(Caracas, June 13, 2008).- The exhibition
General Guiseppe Garibaldi and Latin America
, Latin American Ex-libris Competition opens Monday June 16 at 8 pm in the CAF Gallery. The show, which originated with the bicentenary celebrations of the birth of Guiseppe Garibaldi, contains 105 works by 56 Latin American artists with the theme of the epic achievement and historical figure of this personage.
The exhibition – which initially opened in December 2007 under the organization of the Casa América Foundation of Genoa - is the product of an international competition which brings together the works of artists from Argentina, Bolivia, Brazil, Colombia, Chile, Mexico and Uruguay. In Venezuela the exhibition is one of the activities of the Italian Festival 2008 organized by the Italian embassy in the country.
As part of this homage, next Thursday June 26 a concert of Italian music will be held in the CAF Auditorium when violinists Iván Pérez and Edgar Aponte, cellist Florian Ebesberg and double-bass player Joel Novoa will perform works by Gioaccino Rossini and Nicolló Paganini.
These activities confirm CAF's efforts to support and disseminate universal art in the region. The CAF Gallery has paid homage to important visual artists of the stature of Francisco Narváez, Enrique Grau and Alfredo Boulton, and other masters such as Oswaldo Vigas, Edgar Negret, Víctor Valera, Carlos Cruz Diez, Ángel Hurtado, Oscar Pantoja, among others.
Exhibition in the CAF gallery
General Giuseppe Garibaldi and Latin America Latina open to the public June 17 at the following times: Monday to Friday: 9:30 am to 12:30 pm and 2:00 pm to 6:00 pm. Sunday: 11:00 am to 3 pm.
Location: Avenida Luis Roche de Altamira, Torre CAF. Caracas
Admission free