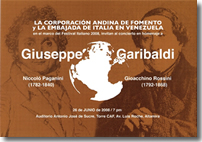 Celebration in honor of Garibaldi continues
June 25, 2008
A concert in honor of Guiseppe Garibaldi will be presented in the CAF auditorium
The pieces to be performed are from Rossini and Paganini.
(Caracas, June 25, 2008).- The Andean Development Corporation invites the public to a concert in homage of Guiseppe Garibaldi, as part of the activities of the Italian Festival 2008. The event, at which the public can appreciate pieces from Gioachino Rossini and Niccoló Paganini, will be held this Thursday June 26 at 7 pm in the Antonio José de Sucre Auditorium, Torre CAF, Avenida Luis Roche de Altamira.
At the performance violinists Iván Pérez and Edgar Aponte, cellist Florian Ebesberg and double-bass player Joel Novoa will perform Sonata Nº 1 for two violins, cello and double bass in G major; Sonata Nº 3 for two violins, cello and double bass in C major; Duo for cello and double bass; and Sonata Nº 6 for two violins, cello and double bass in D major, of Rossini; and Variations for solo violín on "Nel cor piú non mi sento" de Paisiello, of Paganini.
The concert is one of the cultural activities promoted by CAF through its Social Responsibility Program and is part of the celebrations of the bicentenary of the birth of Guiseppe Garibaldi.
Also at this time, the CAF Gallery is holding the exhibition General Guiseppe Garibaldi and Latin America. Latin American Ex-libris Competition. The show is composed of 105 works by 56 Latin American artists with the theme of the epic achievement and historical figure of this personage.