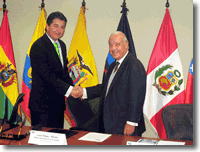 Joint project with Fundación Natura will strengthen Ecuadorian National System of Protected Areas
June 09, 2008
The project covers evaluation of the state of conservation and management of protected marine and coastal areas and strengthening the National System of Protected Areas (SNAP).
(Quito, June 9, 2008).- The Andean Development Corporation and Fundación Natura signed a technical cooperation agreement for execution of a project to strengthen the National Subsystem of Protected Marina-Coastal Areas in Ecuador.
Ecuador is considered the most mega-diverse country in the world for its size, with more animal and plant species per square kilometer than any other country in the world. This extraordinary biological diversity is also present in marine areas. The National System of Protected Areas (SNAP) at level of marine-coastal areas includes, in addition to the Galapagos, 15 protected areas on the continental coast, covers 305.050 hectares, and represents 3.7% of the continental coast of Ecuador. However there is no conservation management plan.
In 1976, the National Government, through the Ministry of the Environment, created SNAP with the objective of preserving the country's biological diversity and promoting the sustainable management of wilderness areas, the potential advantages of eco-tourism and maintaining genetic flows because of their bio-geographical importance.
The joint CAF and Fundación Natura project to support SNAP will make an important contribution to biodiversity conservation by formulating a proposal to create a National Subsystem of Marine and Coastal Areas and later editing publication to increase the awareness of the local and national population of the importance of conserving marine resources.
This project is linked to the CAF Biodiversity Program which supports efforts to conserve ecosystems which are home to the high biological diversity of Latin America.