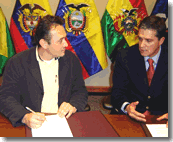 La Paz, El Alto, Viacha and Achocalla municipalities to have studies for Metropolitan Sanitary Landfill
June 26, 2008
The pre-investment studies for execution of the project will be completed in a 10-month period with CAF support
The execution agency will be the Vice Ministry of Basic Services.
The holding of 13 seminars in the four municipalities is also being considered.
(La Paz, June 26, 2008).- By means of a non-reimbursable technical cooperation agreement signed by Water Minister René Orellana, and CAF representative in Bolivia José Carrera, the multilateral organization will assist with preparation of the Identification Study (EI) and the Integrated Technical, Economic, Social and Environmental Study (TESA) for implementation of a Metropolitan Landfill in the municipalities of La Paz, El Alto, Achocalla and Viacha.
The cooperation assistance covers definition of the institutional arrangements to guarantee execution of the project and its sustainability, taking into consideration the participation of municipal authorities and the central government; structuring a financing scheme for the project; and preparation of the bidding and contracting source documents.
During the signing, Minister Orellana emphasized the importance of this support for the municipalities of the La Paz metropolitan area in improving waste management. "It is a great opportunity, particularly for El Alto municipality which has a real and urgent need in this area," he said.
CAF representative José Carrera said the operation was high priority for CAF because it would favor the entire metropolitan district with a population of approximately two million.
The operation of a metropolitan landfill will generate economies scale in the cost of handling and final disposal of solid waste, and efficiency in the concentration of environmental and social impacts since the effective area of the facilities, and the impact of a single site for various municipalities, will be less than the sum of the areas if each municipality had its own landfill. Pre-investment and investment costs will also be lower.
Future plans includes specific cells for hazardous waste to increase safety, entry into the project of other nearby municipalities, increased financial returns from the issue of carbon emission reduction bonds (greenhouse gas effect GHGs), and generation of other integrated benefits such as development of a biogas capture system.
With the support of the technical cooperation, a multidisciplinary team formed by environmental engineers, geographers, experts in land management, hydrogeologists, economists, experts in municipal management, municipal lawyers and civil engineers will gain experience in solid waste management, necessary in other Bolivian cities, and in designing a financing strategy for the project.
The Ministry of Water and the Vice Ministry of Basic Services are the competent Bolivian authorities for solid waste management and design of national and municipal policies and standards. The municipalities have a mandate for managing operations within their jurisdictions, as well as classification, collection, handling and final disposal of the solid waste.