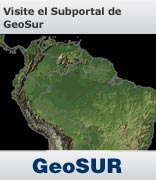 Promotion of South American Geospatial Network (GeoSUR)
June 19, 2008
CAF, through the new GeoSUR subportal, will make national and regional interactive maps of South America available to the public.
The objective of the GeoSUR program is to improve knowledge of the region, support development planning and improve access to geospatial information
(Caracas, June 19, 2008).- The Andean Development Corporation today launched its new GeoSUR subportal on the internet. The new site makes interactive national and regional maps of South America available to the public as CAF's contribution to improving knowledge of the subcontinent and supporting development planning activities which require the use and exploitation of geographical information.
The GeoSUR Program, which stimulates the creation of a South American geospatial network, is developed under the auspices of CAF with the participation of the Pan-American Institute of Geography and History, Inter-American Network of Information on Biodiversity, Agustín Codazzi Geographic Institute, Chilean Military Geographic Institute, Argentine Military Geographic Institute, Brazilian Institute of Geography and Statistics, and over 20 institutions from South America. The initiative receives technical assistance from the US Geological Service and a group of institutions specializing in the region.
The Program responds to the needs of regional efforts - such as the South American Regional Infrastructure Integration Initiative (IIRSA) - and national efforts to plan and develop physical infrastructure, with access to duly integrated, geo-referenced and standardized spatial information.
The GeoSUR Program and the Condor Program - a CAF initiative which offers access to environmental and spatial data from the Andean region - work together to provide a platform for access to spatial information on South America.
From today, visitors to the GeoSUR site will be able to find out more about the program and, in the near future, access an important series of interactive regional and national maps.