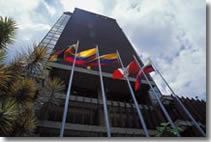 Proposals for decentralization and local development in Latin America
June 05, 2008
CAF announced the winners of its seventh Research Papers Program
The winning proposals cover topics of decentralization and local development in Brazil, Colombia, Peru and Venezuela.
The selected researchers will receive US$10,000 to develop their research proposals.
(Caracas, June 5, 2008).- The Andean Development Corporation announced the names of the four winners of its
Research Paper Program on Development Issues
2008. Proposals were received from several countries, covering various topics within the fields of decentralization and local development in Latin America.
The Research Paper Program - now in its seventh year and promoted by the multilateral financial organization - invites researchers to present research proposals on topics of interest to CAF. The Corporation provides financial support for the selected entries, and final works are eligible for presentation at a local or regional seminar and later publication.
The Program is aimed primarily, but not exclusively, at researchers associated with universities, research institutes and other public and private institutions in Latin America, together with assistant professors, researchers or postgraduate students from CAF shareholder countries who work in institutions in the United States or Europe, and focus on issues related to Latin America.
The jury of this year's Program was formed by José Antonio Ocampo, Columbia University; Isidro Soloaga, Colegio de México; Jorge Martínez, Georgia State University; Andrés Rodríguez-Pose , London School of Economics; Guillermo Perry, Fedesarrollo; and Alberto Porto, La Plata National University, as well as representatives of CAF's Office of Public Policies and Competitiveness. The proposals selected by the jury were:
Coordinating to limit pollution spillovers under decentralized management of water in Brazil, presented by Ahmed Mushfiq Mobarak, professor, Yale School of Management.
Decentralization and access to social services in Colombia, by Jean-Paul Faguet, professor, London School of Economics, and Fabio Sánchez, professor, Los Andes University.
Local government's capacity and performance: evidence from Peruvian municipalities, by Fernando Aragón and Carlos Casas, PhD candidate, London School of Economics, and professor, Peruvian Pacific University, respectively.
Decentralization, citizen participation and local urban development in Venezuela: new linkages between local government and communities following the creation of communal councils, presented by Norma Madrid, postgraduate student, Venezuelan Institute of Scientific Research.
The researchers will receive US$10,000 to develop their proposals and have until the end of the year to submit their final papers.