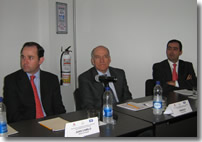 Support for strengthening of poultry industry in Colombia
June 23, 2008
The Corporation and the Bucaramanga Chamber of Commerce signed a non-reimbursable technical cooperation agreement to improve levels of competitiveness in the sector in Santander department
(Bucaramanga, June 23, 2008).- To support the Program "Development of a sustainable competitive strategy for the poultry industry in Santander," CAF signed a non-reimbursable technical cooperation agreement with the Bucaramanga Chamber of Commerce.
This main objective of this program is to design, develop and implement a joint purchasing methodology for companies in the poultry industry in Santander, which strengthens the supply chain and creates competitiveness for the cluster.
The aim is to develop a technological platform as a tool for starting the model, along with knowledge transfer from an international expert in joint business strategies at the vertical and horizontal level of the chain.
The poultry industry contributes about 3% of agricultural GDP and generates about 370,000 jobs. According to figures from Proexport, the value of poultry product exports at the end of 2007 totaled US$5.3 million approximately.
Santander department has defined the poultry industry as one of its productive priorities for the region, focusing on use of technologies and development of strategies to meet the challenges that the new trade agreements impose on the sector.
With this agreement, CAF through its Competitiveness Support Program (PAC) continues to promote initiatives which stimulate competitive advantages, higher economic growth rates and a higher quality of life for the people of the region.
The Bucaramanga Chamber of Commerce, organization which supports development of this program together with the Colombian National Poultry Producers Federation (FENAVI), is a private independent institution which offers products and services to improve business competitiveness and develop Santander department.