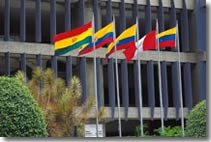 US$250,000 donation for national emergency in Colombia
June 02, 2008
This immediate contribution is in response to the devastating effects of the rains on Colombian territory.
(Caracas, June 2, 2008).- In an immediate response to the rains which have battered Colombian territory, CAF President & CEO Enrique García approved a US$250,000 donation as urgent assistance for the national emergency.
"On behalf of CAF, and myself, I express our most sincere solidarity to the people of Colombia following the devastating effects of the torrential rains that have battered the country and caused appreciable human losses, thousands of victims, and immense material losses," Garcia said.
In a letter to Colombian President Álvaro Uribe, the president of the multilateral financial organization said that the donation was made to offer speedy assistance through the channel set up by the Colombian government. "I hope this contribution helps to mitigate the serious consequences of the natural phenomenon, especially the floods and landslides of recent days," he said.