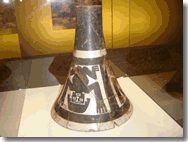 Ceramic treasures of Pariti on show in CAF artespacio
July 25, 2008
The CAF cultural space will exhibit 30 ceramic pieces from Pariti island, whose find was considered one of the most important in the history of world art in recent decades.
The exhibition is sponsored by the Ministry of Education, the Vice Ministry of Development of Cultures, and the National Archaeology Museum.
(La Paz, July 25, 2005).- Artespacio, the art and cultural gallery of the Andean Development Corporation, presents the exhibition
Pariti, an offering to the gods
. The display consists of 30 ceramic pieces selected from the 450 which comprise the Tiwanakota archaeological collection found on Pariti island in 2004, which was declared national heritage and is considered to be one of the most important discoveries in the history of world art in recent decades.
The pieces, reconstructed by Bolivian archaeologists, show typical Tiwanakota forms (bowls, basins, ch´alladores, kerus, small bottles and platters with pedestals), and a large number of pieces with shapes that are little-known in archaeological iconography, such as kidney-shaped vessels and vessels modeled with masculine, feminine and zoomorphic forms, including mythical animals.
Situated on Lake Titicaca, about 82 kilometers from the city of La Paz, Pariti is one of the small and beautiful Wiñaymarca islands, with an archaeological heritage recognized since last century but whose greatest discovery took place in 2004. The spectacular find of two deep holes with extremely high quality ceramics and camel bones was made during execution of the project Formations and Transformations of Ethnic Identities in the central and south Andes, 700-1825 AD, financed by the University of Helsinki and the Finland Cultural Foundation.
According to radiocarbon dating by the University of Helsinki, the original burial of pottery pieces and animals in the holes took place as a ritual sacrifice about 1000 AD in front of a building, considered by experts as a temple of the Tiwanaku culture, whose construction dates from the second half of the 7th century.
The selection of 30 heritage objects will be on display until September 2.