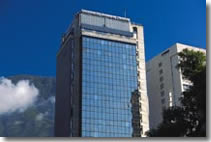 Double support for Bolivian competitiveness
July 01, 2008
Non-reimbursable funds for preparation, publication and distribution of a guide on simplifying administrative procedures.
A cooperation agreement which promotes integrated development by strengthening national productive chains.
(La Paz, July 1, 2008).- The Andean Development Corporation, through its Competitiveness Support Program (PAC), signed two non-reimbursable technical cooperation agreements for Bolivia with the Productivity and Competitiveness Unit (UPC) of the Development Planning Ministry. The operations will improve the country's levels of competitiveness in two ways: by improving the environment for business activity, and stimulating creation and sustainability of productive chains.
The first agreement provides non-reimbursable funds for the design, publication and distribution of a Methodological Guide on Simplification of Administrative Procedures. The document will contribute to improving the environment for doing business at local level, by systematizing Bolivian experience in the area and circulating the information among the municipalities which wish to simplify their administrative procedures.
The activity also includes a round of visits to various localities to make this tool available, emphasizing the importance of its application for promoting local business activity and consequent generation of employment.
A second agreement was signed with the UPC to execute the Bolivia Innovative and Coordinated for Integral Development Project with the objective of strengthening and developing productive chains in the nine Bolivian departments.
The Bolivian clusters will be stimulated by reinforcing the Departmental Competitiveness Councils (CDCs), which were set up in 2002 as spaces where public, private and academic sectors could discuss and analyze the main issues of national productive development, and formulate possible alternatives and solutions.
CAF will support council coordinators in their work of advising local actors on identifying, systematizing and implementing at least two specific projects which reinforce some of the productive chains on which they have been working, as part of the scheme of public-private and academic synergy.