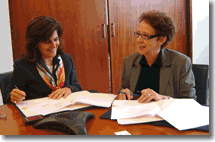 Joint support with Right to Play for sport for development
July 03, 2008
The two organizations signed a technical cooperation agreement for execution of the Teach to Play project which will benefit 50,000 children in Cuzco and Lambayeque.
(Lima, July 3, 2008).- The Andean Development Corporation and the Right to Play NGO today signed a cooperation agreement to execute the "Learn to play" project whose objective is to contribute to the integrated development of 50,000 children through the use of educational resources based on play, and the training of primary school teachers in Peru's Cuzco and Lambayeque departments.
The participants in the signing ceremony were Eleonora Silva Pardo, CAF director representative in Peru, and Teresa González, director of programming, supervision and evaluation at Right to Play.
Silva Pardo said that the project was an innovative joint initiative by the CAF External Relations Office and Right to Play which, for the first time, would apply the idea in a Latin American country as a reference project for replication in other countries of the region. The initiative is part of the Sport Education Program promoted by CAF as part of its Social Responsibility activities.
"The virtue of this initiative lies in offering children and teenagers the opportunity to develop as individuals and as groups through educational tools which use sport and play as incentives for a healthy life," she said.
The CAF representative stressed the social impact of this type of action, which will undoubtedly improve the living conditions of the beneficiaries of the project.
The multilateral financial organization promotes strategies of this nature in all the countries where it operates in an effort to expand the universe of options available in the area of development, based on its institutional mission, she said.
This project will create a national network involving national and local education authorities, which will lead to the expansion of the project to other regions of the country, the CAF official added.
Teresa González said the "Learn to play" project was supported by the Peruvian Sports Institute and the Ministry of Education and its execution is expected to become a reference pilot for other Latin American countries.
Right to Play is an international humanitarian organization which uses sport and play to improve health, develop aptitudes for life and foster peace among children and communities in some of the world's most disadvantaged areas in over 20 countries affected by war, poverty and disease in Africa, Asia, the Middle East. The NGO now enters Peru for the first time with a pilot project for Latin America.