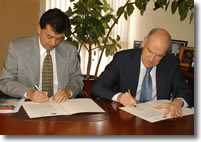 JUNTOS receives contributions
July 24, 2008
The multilateral financial organization signed an agreement with ACCIÓN SOCIAL to join efforts to combat extreme poverty.
The International Cooperation Office of ACCIÓN SOCIAL has been negotiating this initiative with CAF since the end of last year.
(Bogota, July 24, 2008).- The Andean Development Corporation and the Presidential Agency for Social Action and International Cooperation (ACCIÓN SOCIAL) signed a memorandum of understanding to join efforts to execute the Network for Overcoming Extreme Poverty - JUNTOS.
The agreement covers execution of cooperation projects in the areas of Community Financial Management – access to banking services and savings – strengthening opportunities for employment, access to public services of health, education and nutrition.
A first project to initiate execution of the agreement has been identified by the two parties. This initiative, which CAF is analyzing, involves entry into working life for young people through the training of 300 beneficiaries to work as agents in call centers. The proposal has an approximate value of US$100,000 and will also have the participation of SENA and EMTELSA.
With this initiative CAF becomes one of the first multilateral organizations to join the Colombian government's efforts and make an effective contribution to implementing the Network whose main objective is to improve the living conditions of 1.5 million families by facilitating access to the social programs offered by the State.
ACCIÓN SOCIAL director Luis Alfonso Hoyos Aristizabal said, "with this agreement there is great hope that we can identify other types of actors and achieve greater things for JUNTOS."
CAF representative in Colombia Freddy Rojas said, "it is very important to create synergy with the priorities set by the national government and strengthen capacities in the most disadvantaged communities. We recognize in JUNTOS an important strategy for combining efforts in favor of a common objective."
The International Cooperation Office of ACCIÓN SOCIAL has been negotiating with CAF since late 2007 on this initiative, whose purpose is to contribute to the effective implementation of the JUNTOS network and strengthening the strategy.
As part of these negotiations, CAF participated in the activity "Co-manager for a day" last April 30 in Manizales to become familiar with the functioning of the strategy in the field.
The agreement was signed in the presence of Freddy Rojas, CAF representative in Colombia; Luis Alfonso Hoyos Aristizábal, director of ACCIÓN SOCIAL; Ana Mercedes Botero, head of the CAF External Relations Office; Sandra Alzate, director of International Cooperation of ACCIÓN SOCIAL; Germán Quiroga, coordinator of JUNTOS; and Rocío del Pilar Casas and María Elsa García, CAF executives.