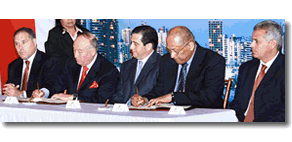 Panama becomes full CAF member
(Caracas, July 22, 2008).- In a solemn ceremony in the Casa Amarilla in Panama City in the presence of President Martín Torrijos, the vice presidents of the Republic, high government authorities, the diplomatic corps, and representatives of the private sector, CAF President & CEO Enrique Garcia, and the Minister of Economy and Finance Héctor Alexander, formalized the entry of this country, which has been a CAF shareholder since 1997, as a full member of the Latin American financial organization.
By signing the agreement, Panama agreed to subscribe US$120 million to CAF ordinary capital which, added to its previous equity investment of US$25 million, raises its capital commitments in the Corporation to US$195 million. Panama will also contribute another US$36 million to the guarantee capital of CAF.
García said that the entry of Panama as full member strengthened the Corporation's Latin American and Caribbean identity, as well as its commitment to the integration and sustainable development of the region, through the exercise of an integrated work agenda which harmonizes objectives of stability, efficiency, equity and environmental equilibrium. This latest full membership - which currently comprises eight of the Corporation's 17 shareholders, including the recent addition of Argentina, Brazil and Uruguay - is a clear incentive for other countries of the region to move in the same direction and stimulate the virtual circle of development."
Panama's entry as full member and the forthcoming opening of a regional office in its capital will create viable conditions for a substantial increase in CAF financial and technical support for the country.
For his part, President Torrijos emphasized the transcendental alliance that Panama and CAF have forged in benefit of key projects in the public and private sectors, with a view to the internal development of the nation and regional integration. He also welcomed the announcement by CAF that it is evaluating an important loan to the Panama Canal Authority to partially finance expansion of the waterway.
Martín Torrijos and Enrique García agreed that the subscription was an excellent opportunity to strengthen Panama's role in CAF, and in cooperation with the Meso-American, Caribbean and South American integration schemes currently in progress.
Since its entry as shareholder in 1997 Panama has maintained a close relationship with CAF, which has generated loans totaling US$200 million for national development, mainly destined to the infrastructure sector, along with a series of non-reimbursable funds granted to various environmental and competitiveness programs.