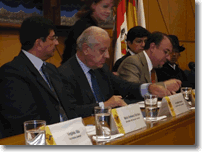 Postgraduate program in integration developed with Andean University
July 25, 2008
Non-reimbursable technical cooperation agreement to develop a Postgraduate Program integration signed with Simon Bolivar Andean University
(Quito, July 25, 2008).- In the Simon Bolivar Andean University, Ecuador Central Campus, a solemn session was held to commemorate University Day and the birth of Liberator Simon Bolivar.
During the solemn session a non-reimbursable technical cooperation agreement was signed between CAF and the Simon Bolivar Andean University (UASB), Ecuador Central Campus.
The objective of the non-reimbursable funds granted by the Corporation is to develop a face-to-face postgraduate program in regional integration for Latin America. The project will have an impact on training professionals who can design strategies to stimulate integration, and study the effects of integration and cooperation on living conditions and human development in the countries of the Andean area.
CAF representative in Ecuador Luis Paláu-Rivas said the technical cooperation was aimed at stimulating national, Andean and Latin American integration processes by training professionals from the public and private sectors the capacity to analyze integration processes in Latin America.
CAF will share the knowledge and systematization of experiences in the area of integration and international trade and will make available relevant research on increased participation in international markets by the countries of the region.
The 27-month program will be executed jointly by CAF, the Andean Community of Nations, and UASB.