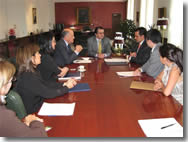 US$74 million for Buga-Buenaventura divided highway
July 14, 2008
CAF and the Colombian Ministry of Finance and Public Credit signed a loan agreement to upgrade the country's road infrastructure and strengthen competitiveness.
(Bogota, July 14, 2008).- The Andean Development Corporation and the Colombian Ministry of Finance and Public Credit signed a loan agreement for US$74 million. The funds will be used for construction of the first stage of the Buga-Buenaventura divided highway.
"This credit contributes to developing the physical infrastructure of Colombia and strengthens the country's competitiveness," CAF President & CEO Enrique Garcia said.
This section of road is located in Valle del Cauca department and crosses the western cordillera from west to east. The route has geographical characteristics which prevent efficient, comfortable and safe movement of traffic, which results in high operating costs, delays and high accident rates. Because of its geological vulnerability, the route is also prone to landslides and avalanches.
The project will improve road conditions and generate benefits of savings in travel time and operating costs, as well as reducing the number of accidents and mitigating the effect of natural events.
The works covered by this first stage involve construction of new roadways, improvement and rectification of the existing road, reduction of slopes, and land stabilization to reduce risks from natural disasters.
The route is part of the Bogotá-Buenaventura corridor whose area of influence covers 35% of the country's population. Because it connects the country's main production centers with Buenaventura port, the corridor is one of the country's main export routes carrying 30% of Colombian foreign trade, and one of the integration route projects identified by the South American Regional Infrastructure Integration Initiative (IIRSA).
In addition to the works on the Buga-Buenaventura divided highway, CAF has participated in financing other projects in the Bogotá-Buenaventura corridor aimed at improving transport conditions, through loans to the public and private sectors, and technical cooperation funds, especially for the Buga-La Paila concession, the alternative access route to the city of Buenaventura, La Línea Tunnel, and the Puertos de Primera program.
Through its Corporate Social Responsibility Program, CAF has also contributed to financing a training program in productive activities for 2,000 young people from Buenaventura.