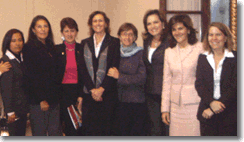 Women leaders in Social Development
July 09, 2008
Meeting called by CAF and IDB.
With the participation of Minister of Women's Affairs and Social Development Susana Pinillla, the "Women Leaders in Social Development Issues" meeting took place successfully in Peru. The event was organized by CAF director representative in Peru Eleonora Silva Pardo, and Inter-American Development Bank (IDB) representative in Peru Ana María Rodríguez, with the objective of analyzing the challenges that face the country in social development issues.
Other invitees at the meeting were former ministers Cecilia Blondet, Pilar Mazzetti, Susana Villarán, Virginia Baffigo, Patricia Teullet and Isabel Coral, along with Ana María Yañez, Violeta Bermúdez, Carolina Trivelli, Fabiolnma León Velarde, Elena Coterno and Naldi Delgado.
The dialogue on a variety of issues related to Peruvian social reality took place in a cordial and informal atmosphere. The discussion focused on decentralization and development of a social policy framework to address problems more efficiently, reaching all the parts of the country and deepening the impact of existing programs.
During the meeting, issues such as nutrition, productivity, health and education were extensively discussed by participants in this transcendental meeting.
This is the second meeting of this type organized on the initiative of IDB and CAF. Last March the two development banks organized the "Women Leaders Economic Issues Conference," opened by Peruvian President Alan Garcia, which analyzed the economic growth of Peru and the challenges that the country faces in the years ahead.