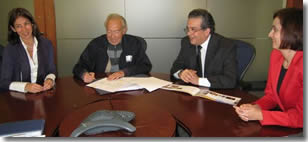 Work opportunities for young people in Cazucá and Ciudad Bolívar
July 28, 2008
With CAF support, the "Training for work in Cazucá and Ciudad Bolívar" project will go ahead to facilitate access to the labor market by young people from low-income sectors.
The initiative is part of the Social Responsibility and Community Development activities promoted by the Corporation
(Bogota, July 28, 2008).- The Andean Development Corporation and the Juan Bosco Foundation signed an agreement for execution of the "Training for work in Cazucá and Ciudad Bolívar" project. The signing ceremony, held in the CAF representative office in Bogota, was attended by Ana Mercedes Botero, head of the CAF External Relations Office, and Nelson Germán Zárate, executive director of the Juan Bosco Obrero Foundation.
Ana Mercedes Botero said, "this project is an option for integrating the economic and social life of displaced and vulnerable young people, offering alternatives which give them a chance to enter the labor market and improve their quality of life, with a positive affect on their environment and family."
The objective of the project is to offer technical training alternatives to young people from low-income backgrounds, facilitating their labor and social access by means of technical and practical courses. The project will directly benefit 1,100 young people from Comuna four of Cazucá sector and Ciudad Bolívar. Most of the young people have been excluded from the education system because of their condition as displaced people.
The subjects in which these young people will receive training are: automotive mechanics (gasoline engines, automotive electricity, automotive safety/security systems), computing (basic systems and maintenance), residential electricity, electronics, baking, carpentry, clothes making, beauty, machine knitting, weaving, schools for leaders, and multiplying schools for sports training.
The initiative, which lasts two years, is part of the social responsibility activities promoted by CAF, with contributions from Colmotores, Ecoopsos, World Vision, Fundación Hogar Integral, Acción Social, Soacha Diocese and the private sector.