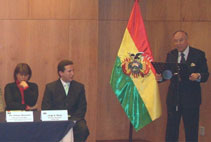 Bolivian private sector receives US$50 million for power generation and financial strengthening
August 22, 2008
The multilateral organization will give integrated support to leverage development and growth of domestic private sector.
(La Paz, August 22, 2008). During his most recent visit to Bolivia, CAF President & CEO Enrique García signed loan agreements with electric power, financial and microfinance entities in the country for total of US$50 million. The companies favored were represented by their most senior executives.
"CAF's mission is to contribute to the sustainable development of its shareholder countries. This year important loans have been approved for the Bolivian private sector for institutional and business strengthening, promotion of a positive business climate, generation of employment and efficient response to demand for basic services for the population," García said.
Empresa Eléctrica Guaracachi S.A. (EGSA) received a US$20-million loan for the Combined Cycle Electric Power Generation project which consists of using the existing steam turbines instead of natural gas for generation. The change will increase EGSA's production capacity by 25% and add 10% to the national system. At the same time, carbon dioxide emissions will be cut by 335,000 tons a year, generating additional funds for the company from markets related to the Kyoto Protocol.
In the microfinance area, Banco Los Andes PROCREDIT signed a US$10-million loan agreement to strengthen its position in the Bolivian financial system with the aim of expanding the volume of loans to micro-, small- and medium-sized enterprises (MSMEs).
Banco Solidario S.A. obtained a US$5-million loan which it will invest in capital strengthening to improve its market position and back its expansion plans for the next few years. With a similar objective, Fondo Financiero Privado Ecofuturo S.A. received a subordinated loan for US$700,000 to maintain its growth and consolidate its position in the sector.
The CAF strategy for the microfinance sector also covers service for NGOs. In this respect, ONG CRECER, which facilitates access by low-income segments to financial services through the "communal bank" methodology, obtained a US$2-million line of credit to continue supporting groups of people who individually do not have the capacity to enter the traditional financial system.
In this financial area, Banco BISA S.A. obtained a US$6.5-million subordinated loan for capital strengthening to accompany the growth planned for the next few years and its positioning in the market.
Finally, a US$5-million subordinated loan was approved for Banco Económico S. A. which the bank will use to increase its capital and expand credit activity in the SME segment.