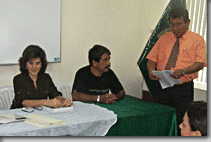 CAF maintains its support for Peruvian decentralization
August 21, 2008
The Corporation will help strengthen initiatives to stimulate infrastructure and essential services which foster sustainable development in this region.
Loreto is the first Amazonian region to opt for this support, following the governments of La Libertad, Cajamarca and Tacna.
(Iquitos, August 21, 2008).- CAF representative in Peru Eleonora Silva Pardo, and Loreto regional President Yván Vásquez Valera today signed a Memorandum of Understanding with the aim of contributing to the decentralization process and supporting initiatives to develop infrastructure and essential public services in favor of sustainable economic, social and environmental activities in the region.
Silva said CAF would assist with preparation of development plans and investment projects as part of the priorities and normative procedures for execution of works with public funds, in an effort to make more efficient use of the funds assigned to the region.
"This initiative will also strengthen the institutional, management and human resource capacities of the regional government through interventions specifically designed for these purposes," she added.
The CAF representative said that the multilateral organization backed the decentralization process initiated in Peru by helping regional governments to comply efficiently with their assigned responsibilities.
After recalling that similar documents were signed recently with the regional governments of La Libertad and Tacna (on the Peruvian Coast), and Cajamarca (on the Peruvan Sierra), Silva said that Loreto would be the first Amazonian regional government to access this CAF support, given the good prospects for performance.
Loreto President Vásquez said the memorandum would lay the base for future support from the multilateral organization for pre-investment studies in the region related to infrastructure and essential public service projects designed to develop socio-economic activities in its jurisdiction.
During her visit to the city of Iquitos, the CAF representative met with officials from the Maynas Provincial Municipality to get to know some of the community and social projects being developed in this Amazonian department.